For the fashion-forward bride with a keen eye for contemporary elegance and style, a modern wedding can be an opportunity to express your unique personality and preferences. From avant-garde gown options to cutting-edge decor and color palettes, here are some inspired ideas to help you create a fashion-focused wedding that will leave a lasting impression.
Avant-Garde Wedding Gowns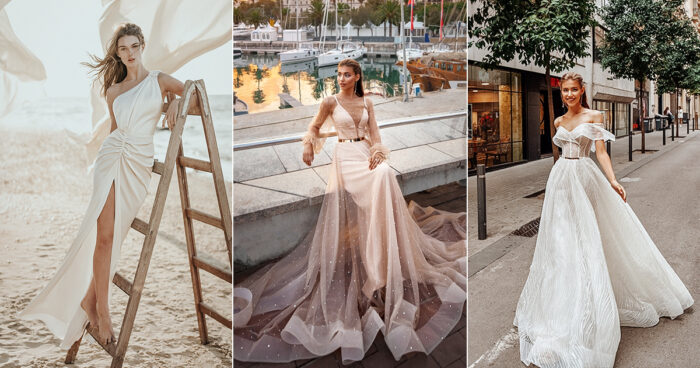 A modern bride can make a bold statement with an avant-garde wedding gown. Consider options like:
Jumpsuits and pantsuits: A chic and unconventional choice that offers comfort and style.
Minimalist silhouettes: Go for clean lines and simple designs focusing on unique textures and fabrics.
High-low hems: This trendy style allows you to showcase your fabulous footwear.
Capes and detachable trains: Enhance your look with detachable accessories for added drama and versatility.
Unique Color Palettes
Step away from traditional white and explore contemporary color palettes that reflect your fashion-forward sensibilities. Some popular choices include:
Moody Neutrals: Deep, rich shades like charcoal, slate gray, or deep navy create a sense of sophistication.
Metallic Accents: Incorporate metallic hues like rose gold, copper, or silver for a touch of glamour.
Monochromatic Magic: Choose a single color and use various shades and textures to create a stunning visual impact.
Statement Florals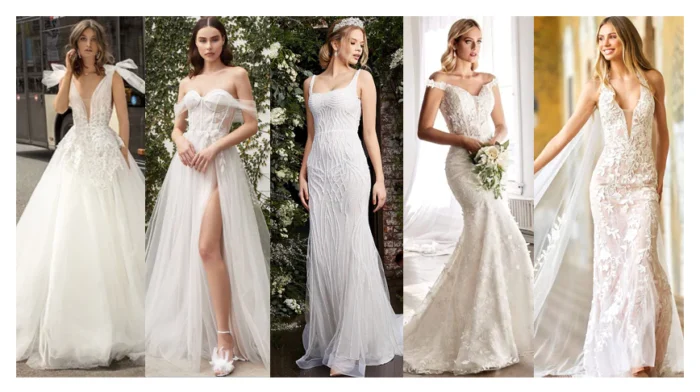 Flowers are a staple at weddings, but a fashion-focused bride can give them a trendy twist:
Dried Flowers: Incorporate dried florals for a unique, textural element in your bouquet and decor.
Oversized Arrangements: Opt for larger, more dramatic floral arrangements that demand attention.
Non-Floral Centerpieces: Consider using unconventional items like geometric sculptures or potted succulents for centerpieces.
Contemporary Decor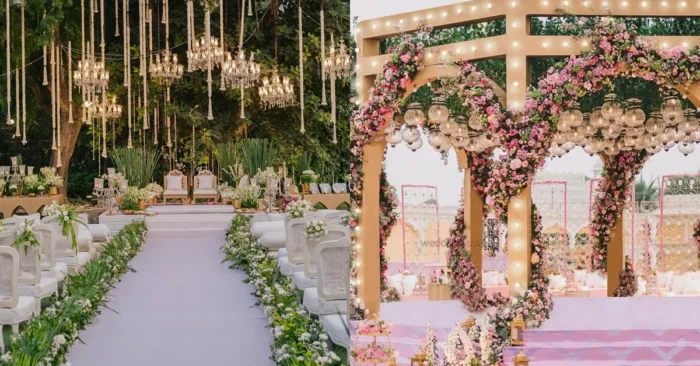 Your choice of decor can significantly impact the overall aesthetic of your wedding. Consider these ideas:
Incorporate geometric patterns in your table settings, invitations, and even the wedding cake.
Utilize transparent materials like acrylic for a sleek, modern look.
Add a pop of color and personality with custom neon signs that reflect your style.
Modern Lighting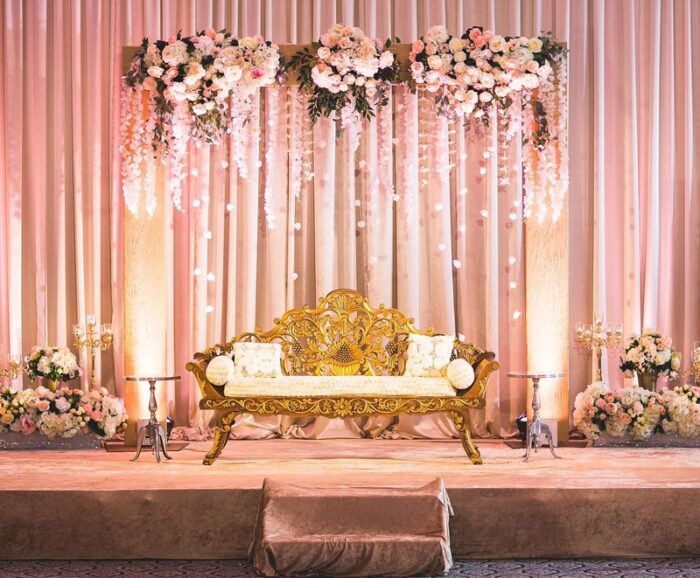 Lighting plays a crucial role in creating ambiance and enhancing the overall visual appeal of your wedding:
Edison Bulbs: Vintage bulbs strung overhead or in chandeliers add a warm and romantic glow.
Candle Installations: Create stunning visual displays with carefully arranged candles in various heights and sizes.
LED Dance Floors: A customizable LED dance floor can elevate your reception and create a futuristic atmosphere.
Contemporary Stationery
Customized stationery sets the tone for your modern wedding:
Minimalist Invitations: Embrace clean lines, bold fonts, and a sleek color palette for your wedding invitations. b. Custom Wax Seals: Add a touch of old-world elegance with personalized wax seals on your envelopes. c. Digital RSVPs: Streamline the RSVP process with digital options for tech-savvy guests.
Bridal Accessories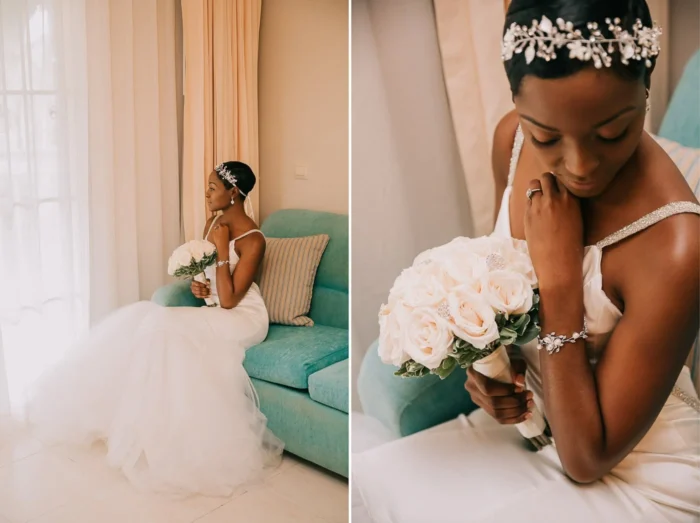 Your choice of accessories can make a big impact on your bridal look:
Statement Headpieces: Consider unique headpieces like a metallic crown, a tiara, or an ornate headband to add a touch of drama.
Bold Jewelry: Opt for oversized, statement jewelry pieces that draw attention and reflect your style.
Colored Shoes: Add a pop of color to your footwear, whether it's a vibrant pair of heels or custom-embellished sneakers.
Personalized Favors:
Give your guests something to remember about your wedding with personalized and fashion-forward wedding favors:
Custom Fragrances: Create personalized scents that you and your guests can wear as a keepsake of your special day.
Artisanal Goods: Provide guests with high-quality, handcrafted goods like artisan chocolates, candles, or small-batch spirits.
Customized Apparel: Offer stylish, customized items like monogrammed silk robes or custom tote bags.
Interactive Entertainment: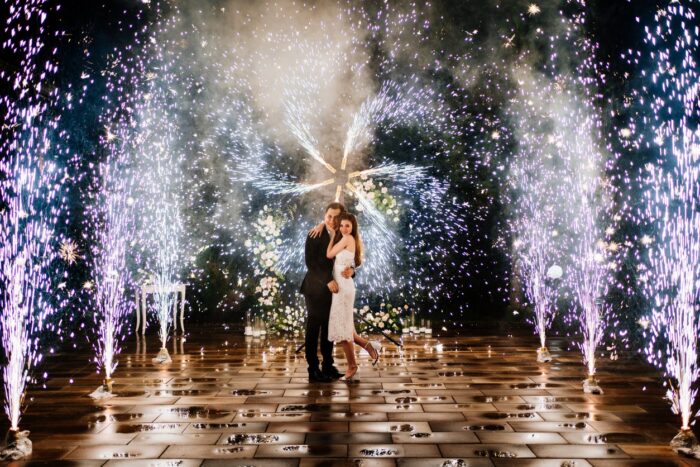 Incorporate interactive entertainment to make your wedding one to remember:
Photo Booths: Offer a modern, interactive photo booth with a range of props and backdrops for guests to capture fun memories.
Live Art Installations: Hire a live artist to create a painting or other artwork during the reception, giving guests a unique and lasting memento.
Virtual Reality or Augmented Reality: Use cutting-edge technology to offer virtual experiences or interactive augmented reality elements.
Edgy Cakes:
Modern wedding cakes are not limited to traditional designs:
Metallic Accents: Incorporate metallic elements into your wedding cake for a glamorous touch.
Geometric Designs: Opt for cake layers in unique shapes or incorporate geometric patterns in the cake's design.
Watercolor Cakes: Create a stunning watercolor effect on your cake with bold, contemporary colors.
Contemporary Music: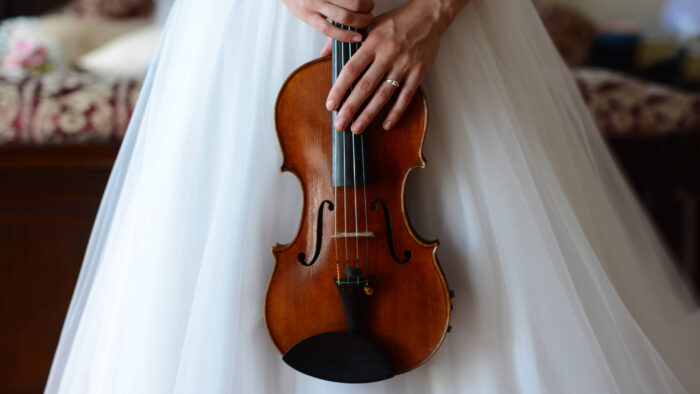 Choose a modern playlist that reflects your style, mixing classic hits with the latest chart-toppers. Consider live bands, DJs, or even a fusion of both for a dynamic music experience.
Themed Rehearsal Dinners:
Carry your fashion-forward theme into the rehearsal dinner:
Fashion Show: Host a mini fashion show with you and your bridal party modeling your wedding attire.
Art Gallery: Choose an art gallery as the venue for an edgy, contemporary atmosphere.
Rooftop Cocktail Party: Hold a chic rooftop cocktail party with panoramic city views for a trendy urban vibe.
How To Select Your Dream Wedding Dress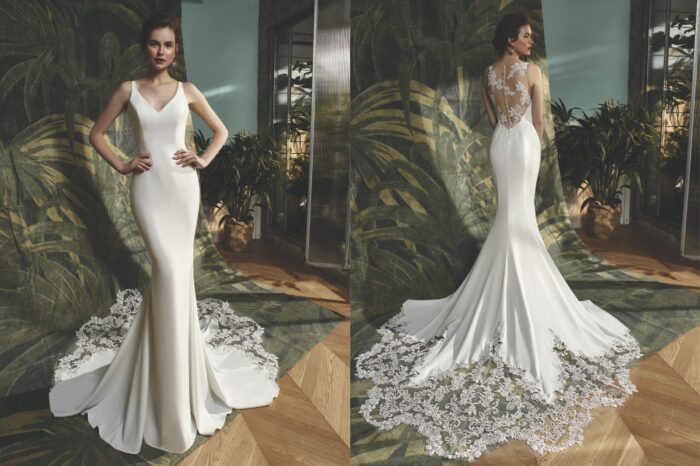 Choosing the perfect bridal collection is pivotal to creating a bride's paradise, as it sets the tone for the wedding. Here are some steps to guide brides in selecting their dream wedding dress:
Research and Inspiration
Start by exploring bridal magazines, websites, and social media platforms like Pinterest and Instagram. Create a mood board or collection of bridal looks that resonate with your style. This initial research helps you identify the features, styles, and details you love.
Budget Consideration
Determine your budget early on. Bridal collections offer a wide range of options, so knowing your budget helps narrow down your choices. Make sure to budget for any additional expenses as well as for accessories and adjustments.
Body Type Awareness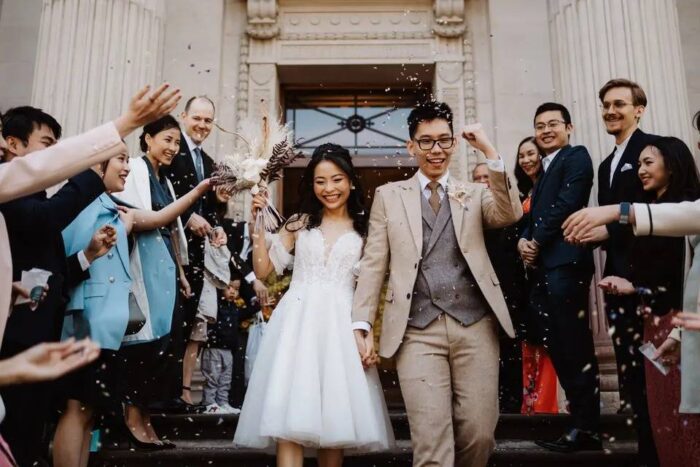 Understanding your body shape is crucial when choosing the perfect dress. Different styles flatter different body types, so seek guidance from bridal consultants who can recommend silhouettes that enhance your best features.
Bridal Boutiques and Designers
Visit bridal boutiques and explore various designers. Make appointments to try on dresses, and be open to experimenting with different styles. Each designer and boutique may offer unique selections, so try to visit a variety of locations.
Consult with a Bridal Stylist
Lean on the expertise of a bridal stylist or consultant. They can help you navigate the bridal collection, offering insight into current trends, and guiding you to gowns that match your vision.
Comfort and Mobility
Ensure your chosen dress not only looks amazing but is comfortable to wear for an extended period. Test your mobility by sitting, walking, and dancing in the gown. You shouldn't sacrifice comfort for style.
Book Ahead for Alterations
Once you've found "the one," secure an appointment for alterations with a trusted seamstress or the boutique's in-house tailor. Proper fitting is essential to achieving the ideal look and feel.
Accessories and Veil
Select accessories and a veil that complement your bridal collection. Whether it's a statement necklace, vintage headpiece, or a cathedral-length veil, these elements can complete your dream bridal look.
Final Fittings
Attend all scheduled fitting appointments to ensure that the dress fits perfectly. Make sure to bring your chosen shoes and undergarments to achieve the ideal look.
Preservation and Care
After the wedding, consider professional gown preservation services to keep your dress in pristine condition as a cherished keepsake or for future generations.
Remember that a fashion-forward wedding is all about expressing yourself and following the newest styles. You'll create an amazing experience for both you and your guests if you make sure your wedding reflects your flair.