About SSC CGL Exam
Over the years, the competition in the SSC CGL Examination along with CutOffs is on the rise, making it a very demanding examination. However, there are always the students who make it through in this examination, so can you.
In SSC CGL, while each stage of examination has great importance in the final selection of a student, SSC CGL Mains holds the maximum weightage, thus the maximum importance.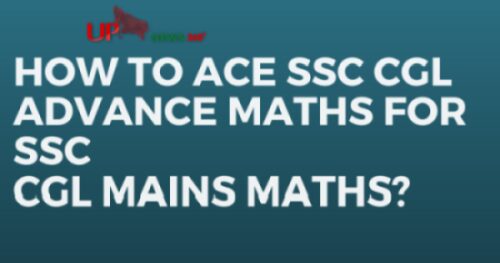 Maths is usually the game-changing subject in CGL Mains impacting your rank and final selection. It is because the Maths Mains paper varies a lot in terms of difficulty and exam level, and most of the candidates get nervous and end up making mistakes. Hence, in this article, we will be sharing the most practical preparation tips for Maths. How to login in SRMC portal online.
Tips to Master Advance Maths for SSC CGL Mains
Geometry: Your aim to score 185+ will be a distant reality without acing Geometry. Since you have already reached SSC CGL Mains, it is clear that you have a good command of arithmetic chapters. So, all that is left to prepare is Advance Maths for SSC CGL Mains. In Advance Maths, Geometry is one chapter that can send shivers down your spine if you don't dig deep to develop a strong conceptual base. Hence, instead of mugging up direct formulas and short tricks, focus more on developing strong basics that will help you even if the paper is moderate or difficult, thus making your chances of final selection very high.
Area & Volume: Once you have mastered Geometry, the chapters like Area and Volume will be a cakewalk for you. When you have developed strong basics of geometry, you will witness a great susceptibility to understanding even the complex of questions from area and Volume chapters. Hence, once you have mastered Geometry, Area and Volume will not be a daunting task anymore.
Number System: In the SSC CGL Mains Examination, a few of the questions from the Number System are really tricky. These questions can only be solved by the students who have a great basic understanding of concepts. Moreover, the high pressure in the examination hall makes you nervous, thus only the students who have practiced and learned the basics well can handle these tricky questions. Hence, in your course of preparation for SSC CGL Mains, never compromise with the basics of any chapter.
Algebra: After Geometry, Algebra is one such chapter that is a bit lengthy and complex. For Algebra, just like geometry, you will have to dig up deeper in this chapter until you achieve perfection. You will not only have to remember all the important formulas but also will have to remember short tricks. Solving the lengthy algebra questions in the examination hall from basic methods might be time-consuming and challenging. Hence, in this chapter, you will have to learn different approaches to solve a particular question.
Trigonometry: SSC CGL Mains, the weightage of Trigonometry questions is undeniable. Though, you won't find much hard in Trigonometry if you have practiced enough and learned all the important formulas. Moreover, you should master the angle putting tricks to solve complex questions as they can save a lot of your time in the Mains Examination. However, not all questions can be done through tricks, never compromise with basics.
Miscellaneous: Though DI can be stated as a part of Arithmetic but in SSC CGL Mains questions from DI like Bar Graph, Pie Chart, Tabular DI are very common and scoring. Hence, along with mastering Advance Maths, focus on DI as well as it can be tricky if you have less calculating speed. Hence, practice a lot until you attain proficiency in DI.
Final Words
SSC CGL might be one of the most demanding examinations in India but the right preparation strategy and hard work can sail you through even in this tough competition. Hence, practice, practice, and practice until you make Maths your scoring subject.