TS NPB Dharani Enrollment Online
Telangana state government launched TS NPB app to transfer records of its citizens in a digital format. TS NPB stands for Telangana State Non Agricultural Properties Updation app.  As we know CM Chandrashekhar Rao launched Telangana dharani portal for land related issue.
As a fast developing state Telangana government has announced that it will issue a comprehensive land ownership document to the land owners which are NAGPR (Non Agricultural Property Record). Read more information about LRS telangana 2020 or layout regularisation scheme as well.
It will be done through TS NPB survey which is a door to door survey for gathering property details and information regarding land records. It is a useful mechanism for digitalization of land records for future prospects. You can know about PM Modi launched new swamitva scheme 2020 for farmers.
The survey will be conducted by dividing in the state into 7 different units. Nonagricultural properties will be identified on the basis of PTIN (Property Tax Identification Number). For the purpose of TS NPB survey three Municipal officials will be appointed with a senior most official at the district level will be provided to control and monitor the overall implementation of survey.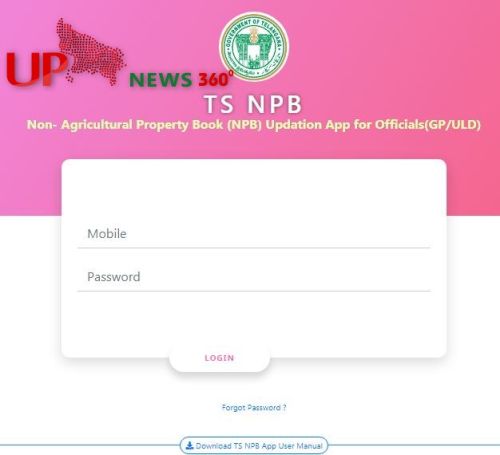 Overview of TS NPB App
So in this section we shared overview of TS NPB app like latest version, number of download, app file size and more.
| | |
| --- | --- |
| TS NPB App | Details |
| Name of App | TS NPB App |
| Number of Download | 50,000+ |
| Size | 6.4 M |
| Current Version | 1.0.16 |
| Website | registration.telangana.gov.in |
| Required Android Version | 4.2 and up |
TS NPB Dharani Login
For Dharani nomination the government officials will be visiting every household via door to door survey. A variety of documents will be required like National IDs (which includes Aadhar card, Voter ID card etc.), User's family member's details (like their Names, Relationship with the owner, Aadhar card number, Age and Gender), Caste certificate and Mobile Number will also be submitted for updation purpose. After that the survey team will create a user ID and an auto generated password will be send via SMS to the registered mobile number.
User will be able to access all the details related to Agricultural property on a single platform which is hassle free an accessible to all. You need to enroll and register in TS NPB application for accessing all the digital records. You also have an option to search for a required property by just typing the owners name house number or TPIN.
It is available on Google. The User ID will consist of a number of properties related to registered users and they will be given a passbook with all the details mentioned in it. Different colored passports will be given for different purpose for example if a farmer has agricultural land then he will be given green passbook otherwise users will be given maroon passbooks.
How to Install TS NPB App
Download the TS NPB app APK or visit official portal https://tsnap.telangana.gov.in/tsnpbApp/.
Once you are done with downloading you'll find the APK in your download section.
Make sure that the third party apps are allowed on your phone before downloading TS NPB (Menu à Settingsà Securityà Check Unknown Sources)
Once the download is complete installation prompt will appear asking for permission to complete installation steps.
Agree to all the installation steps and once the installation is complete you application.
Open the application and enter your Mobile Number and Password to proceed.
The government will update online all the non agricultural properties such as houses, Constructions near agriculture field and Wells, Farm Houses beyond the village settlement areas and incorporate them in the Dharani web portal free of charge.
This app will register nearly 52 details which include owner's name, family members' details, Aadhaar number, mode of ownership (Inheritance, purchase or gift), caste, electricity and water connection details etc. Aadhar plays a central role in all the data updation as all properties would be integrated with the Aadhar card.
C.M Views on TS NPB App
Chief Minister K Chandrasekhar Rao has stressed on the importance of this application and made a public comment that "if anybody fails to mutate their properties and update details on the Dharani portal their children will face problems in future". He said that mutation and updation of details would be done on the Dharani web portal simultaneously.
He also instructed Sarpanch, MPTC members, Ward members, Mayor's Council, Chairman Councillors and Panchayat Secretary is to ensure all non-agriculture properties are updated in their respective villages and also to promote awareness among people on the survey.
Privacy concerns have been raised by the citizens sensitive details such as Aadhaar number and caste of property owners are crucial and integral part of the Dharani portal. In several areas GHMC teams are forced to return empty-handed as citizens are not Cooperative and straightforwardly refused to share critical information.
There have been campaigns and posts in social media to against sharing data. Questions have been raised about specifying ones caste for the purpose of which forms part of mandatory details.
Non Agricultural Property Enrollment
Aadhar details of not only the property owner but also of owners family members are sought. The document has a special mention to seed the Aadhar number of the person through the Pattadar Passbook number. If in case the property holder does not have the Pattadar Passbook then the official to pull the Aadhaar number from other identity documents food security card Jan Dhan account aasara pension etc. In case of joint property ownership joint accounts of the owners will be required.
Earlier the Supreme Court has said that the government can only ask for Aadhaar details in case of welfare schemes. Now the question arises that case offer database is it really necessary to Aadhar which in this case will be associated with financial profiling of people.
In a recent event M K Chandrasekhar Rao also updated all his property details at SN PB app. He has put his property details at his residence in Yerrapelli in Siddipet district and performs his duties when contacting the village secretary.
tsnap.telangana.gov.in says
Chief Minister also said that the government was recording all the fixed assets of the citizens and their families for their protection and would ensure security for their assets. He added that it is the first attempt to register every property in the village and towns of the state. The Chief Minister called upon all the citizens to come forward and register their assets and contribute in this land digitalization initiative.

Video Credit: TV9 Telugu Live
The survey pick up its pace as it is slated to be launched on the auspicious festival of Dussehra. Khammam district is leading so far in terms of enumerating the property data for the purpose of issuing nonagricultural property passbooks. More than 46000 properties have already been enumerated as against estimated 89,641 total nonagricultural properties across the district. This application paves the way for integrated Land Record management and the hassle free property related transactions.
F.A.Q about TS NPB App
Is TS NPB app free?
Ans: It is free software which you can download easily
How to get TS NPB App APK for Android?
Ans: You can simply download it from google.
Is Aadhar compulsory for registration?
Ans: Yes, Aadhar is integral part of the process as all the other details will be linked with Aadhar number.
Is it necessary to give family member details?
Ans: Yes, it will ensure security of your property and it is must for future registration.
Are bank details of joint account holders required?
Ans: Yes, for the purpose of clear and correct land record it is must to record the details of joint holders.
Final Words
So in the above article we shared all the information regarding TS NPB app download, step by step guide to download TS NPB app, most popular questions with answers and all. Still any query please contact us via comment section.