What is LRS?
LRS which stands for layout regularization scheme 2023 which is a scheme of Telangana government under Municipal Administration and Panchayat Raj department. Know about Dharani telangana portal gov in.
Government of Telangana launched LRS scheme with a view to promoting plant development of urban areas in the state thereby encouraging development through approved layouts and development of integrated township. Also know about IFHRMS login portal 2023, IFP portal, NHTS Telangana Login & Registration  or TS NPB Dharani enrollment form online.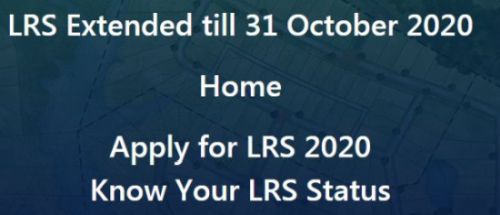 It will be supported by both public and private sector. The government has observed that there are many unapproved and illegal layouts which are violating the statutory development plan or master plan and layout rules lacking in development standards are basic infrastructure facilities like proper roads, street lights and Drainage. Now a days for IPL you can download techno rashi app as well.
Standard and unapproved to subdivision into building plots is affecting objective of plant development along with the plant extension of services and amenities by the local bodies.
Overview of LRS Telangana
| | |
| --- | --- |
| Name of Scheme | Details |
| LRS | Layout Regularization scheme |
| Government Name | Under Telangana Government |
| Benefits | For unauthorized property |
| Last Date | 31st October, 2020 |
| How to apply | LRS online application |
| Official website | https://lrs.telangana.gov.in |
In a bid to put an end to unauthorized layouts the state government issued layout regularization scheme for one last time in all Urban and rural areas. Only layouts and plots sale deed or title deed existing as on August 26 this year will be considered for regularization on payment of prescribed charges. This will be applicable to layouts developed with at least 10% of plot sold through a registered deed on or before the cutoff date. For regularization of their plots the applicants should submit an online application or at Mee-seva centre in prescribed format along with relevant documents.
LRS Scheme in Telangana
There is a registration fee is Rs 1000 in case of individual and rupees 10000 in case of layout developers. Basic regularization charges the applicant @ 200 per square meter for plot area of less than hundred square meters, rupees 400 for area of 101 to 300 square meters, rupees 600 for an area of 301 to 500 square meters and rupees 750 per square meters for area above 500 square meters.
They also have to pay regularization charges as per the land value amounting to 25% of market value of land up to rupees 3000 per square yard, 50% of market value of rupees 3000 1 to 5000 per square yard, 75% of market value of rupees 5000 12 rupees 10000 per square yard and 100 percent of market value of land for more than 10 thousand rupees per square yard.
The concerned authorities have been instructed to strictly adhere to existing norms in regularization of unauthorized layouts. No regularization will be allowed on the beds of water bodies like a river or lake and in the full tank level of lakes, Ponds tanks or Kunta and in the shikam land. No regularization will be allowed insights earmarked for industrial or manufacturing zone. Government launched for student and teacher Diksha app online.
Regularization of floors will be approved in district address to the existing norms after obtaining necessary clearances from the concerned authorities in case of plots near the defence of our military and airports. This is a mark in any approved layouts as well as disputed lands inclusive of government lands endowment lands and wakf lands are excluded situation for regularization.
LRS Telangana Last Date
The last date for filling application under LRS scheme has been extended to 31st October 2020.
How to Apply For LRS Telangana?
Visit the link https://lrs.telangana.gov.in
Click on for LRS 2023.
Both Indian and NRI can apply for this scheme. Check either Indian or NRI.
Enter your mobile number click on generate OTP.
The OTP will be sent to your registered mobile number and Submit the application along with sale deed executed prior to the date of notification of the rules and regulations.
Payment of prescribed fees and charges
In case of unapproved plot and penalty concerned you need to fill separate applications unapproved plot Regulation and another for penalization regulation of an authorised building.
The owner have to pay 10% of the amount or minimum of rupees 10000 unapproved plots for plants which shall be paid along with the application form full stop for the balance amount shall be paid within 6 months from the date of submission of the application.
It is a compulsory disclosure scheme proposed for regularization of unapproved plots on Layout to bring them into the planning fault and to provide basic facilities video of life of the citizens.
LRS Telangana के बारे में
तेलंगाना सरकार राज्य में शहरी क्षेत्रों के नियोजित विकास को बढ़ावा देने के उद्देश्य से अनुमोदित लेआउट और सार्वजनिक और निजी दोनों पहलों के माध्यम से एकीकृत टाउनशिप के विकास के माध्यम से विकास को प्रोत्साहित कर रही है। सरकार ने पाया है कि कई अस्वीकृत और अवैध लेआउट हैं जो विकास मानकों और उचित सड़कों, स्ट्रीट लाइटों और जल निकासी जैसी बुनियादी अवसंरचना सुविधाओं में कमी वाले सांविधिक विकास योजना/मास्टर प्लान और लेआउट नियमों का उल्लंघन कर रहे हैं । भूमि के ऐसे घटिया और अस्वीकृत उप-प्रभागों को स्थानीय निकायों द्वारा सेवाओं और सुविधाओं के नियोजित विस्तार के साथ-साथ नियोजित विकास का उद्देश्य प्रभावित कर रहा है।
सरकार ने पूर्व में ऐसे अस्वीकृत लेआउटों को नियमित करने की योजना लाई है लेकिन उन्हें सीमित सफलता मिली क्योंकि यह एक स्वैच्छिक योजना थी जिसमें भूखंड मालिकों को नियमितीकरण के लिए आगे आने की जिम्मेदारी थी और नियमितीकरण के लिए आगे नहीं आने वाले मालिकों के विरुद्ध कोई निवारक प्रावधान नहीं थे । इसलिए इन सभी अनियोजित क्षेत्रों को नियोजित विकास के रूप में लाने और इन क्षेत्रों में बुनियादी सुविधाएं प्रदान करने के लिए ताकि एक समग्र और एकीकृत क्षेत्र और शहर स्तर के विकास और नागरिकों के लिए जीवन की बेहतर गुणवत्ता को बढ़ावा दिया जा सके, सरकार इसके द्वारा अस्वीकृत और अवैध लेआउट के नियमितीकरण के लिए नियम जारी करे ।
Who can apply?
Individual plot owners in an approved layout having register title deeds prior to 31st August 2019
Association, society, welfare society, Colony developer representing the unapproved plot owners having registered sale deed prior to 31st August 2019
Areas covered under CRDA accept Capital city areas, VMRDA, VKP, CPIRSDA, all UDAs, all Municipal corporations, municipalities, Nagar Panchayat, Gram Panchayat falling outside UDAs and areas covered by Master plants or zonal development plans and IAIAs..
How to Check LRS Application Status 2023?
Just follow below step by step guide for check LRS application status 2023 online:
First of all visit official website
Next click on "Check status"
After filling all the required details
Finally you can show LRS application status
How to register for LRS scheme? Or Registration Procedure For LRS Scheme
Visit the portal https://lrs.telangana.gov.in
Register yourself on the portal with the help of email id and your mobile number.
Select your municipality from the drop down menu.
Next select LRS from the menu.
Select the print application form option.
Submit application along with required documents mentioned in the application.
Documents will be verified and concerned authority will send you an SMS.
Your status will be updated and is confirmed via text message.
Make payment after receiving the confirmation message.
Receive approval and permission.
What Are The Documents Required For LRS Scheme?
You need to apply for LRS beforehand within 90 days and make sure that you have the following documents along with you at the time of application.
Copy of registered sale deed or title deed attested by a gazette officer.
Plan layout and master plan layout mention the plot area.
Areas coming closer to Road should accompany the application .
Site plan showing the plot measurements schedule of boundaries width of abutting roads.
Topology detailed plan showing the ground details with the radius of 100 m meters.
Location plan
Layout plan
Self attested copy of title deed.
Latest encumbrance certificate duly showing all transactions of 13 years.
Land conversion certificate or receipt of intimation of payment under AP agricultural land Act 2006.
Indemnity bond to abide the conditions.
Road widening undertaking if it is affected in road less than 9 meter with and MP/ ZDP/RDP roads.
NOC from the defence authority in case the site following within 500 from the boundary of Defence establishment.
NOC from Airport Authority of India in case the site Falls within the restricted zone of Airport Authority of India.
What is an unapproved layout?
Any land which is divided into plots without the permission of the concerned authorities and tentative layouts approved by Municipal Corporation and sold without obtaining final layout approval comes under unapproved layout.
Read: Previous week our PM Modilaunched new Rs 75 coin in India
LRS Charges in Telangana
As we know there is some charges of fees for authorize LRS for sub registrar as below:
For market value upto Rs 3000 then charges will be 20% of basic
Between 3001 to 5000 then charges 30%
For 5001 to 10,000 then charges 40%
Between 10,000 to 20,000 then charges 50%
For 20,000 to 30,000 then charges 60%
Between 30,000 to 50,000 then charges 80%
LRS Contact Helpline Number
In this section we talk about LRS contact helpline number and email address with address as below:
LRS Telangana Contact Helpline Number: 1800 425 8838
LRS Support Email Address: [email protected]
Address: Municipal Administration & Urban Development, 640, AC Guards, MasabTank, Opp. PTI Buiding, Hyderabad 500 004
Official Website: https://lrs.telangana.gov.in
Frequency Asked Questions
What is LRS application?
Ans: LRS applications for layout regularization scheme 2023 in Telangana .
What is the process for LRS in Hyderabad?
Ans: You have to submit required documents for LRS in Hyderabad.
How do I apply for LRS online?
Ans: For online LRS application visit LRS official website https://lrs.telangana.gov.in
What is the last date for LRS in Hyderabad?
Ans: Last date for LRS In Hyderabad is 31st October, 2020.
Who can avail LRS?
Ans:  LRS means Layout Regularization Scheme.
What are the documents required for LRS in Hyderabad?
Ans: There are many documents required for LRS in Hyderabad like self attached copy of title deed, layout plan, etc..
How can I get land layout in Telangana?
Ans: You have to approval from appropriate office like Gram panchayat, etc..
Conclusion
So in the above article we shared all the details about LRS telangana application status, how to check LRS telangana status, how to apply, charges, LRS charges calculator and all. Telangana layout regularization scheme will promote Urban Development in an eco friendly and sustainable manner I will pay approved layouts true public private partnership thereby bringing an integrated regularized township into existence