Check PAN Card Status UTI
Are you waiting to receive your PAN Card? Check PAN card status online and feel sure of the position of your PAN card application. We have published ways of tracking PAN status at various portals. No matter whether you have applied through NSDL portal or UTI.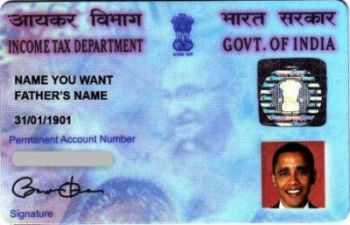 We have shared here the complete procedure to check the status of PAN application. The process will take few minutes while you are online. You can check status of pan card by entering your complete name or 15 digit acknowledgement number to check the PAN Card Application Status. Applicants can know the exact status of their PAN card right on the screen after entering the receipt number.
NSDL PAN Card Status
The procedures shared here can be used to track status of newly applied Permanent Account Number. Also, use it to track the status of any application made for correction in PAN card details as well as you can update your Aadhar card online.
PAN Card is issued to an individual or a firm. This plastic card represents a person or company's identity with an alpha numeric code. PAN Card is mandatory to carry out certain kinds of financial transactions in India. Nowadays, it is also a significant document while opening bank accounts. And while claiming benefits like EPF. More and more people are applying for PAN card and waiting to receive it. Applicants can start tracking PAN card status online after 7 days. The below guidelines will be your best way to check PAN card status. If you still have any confusion, we would love to help you.
What is PAN Status?
PAN Status is an online facility to check PAN card status. It informs the applicants of their pan card delivery status. This will help applicants to know if their application is stuck up due to a shortage of any additional document.
Can you Check PAN Card Status By Name?
You can check PAN card status at NSDL portal without the acknowledgement number. Applicants have a very convenient facility to check PAN Status in an absence of their acknowledgement or coupon number. You can enter your full name and date of birth to view online PAN Card Status.
Check Status of Pan Card
When you Should Check PAN Application Status
Do not start tracking status of your PAN Card within a week. It needs at least 5 days to upload the details of your PAN Card application online. Hence, start PAN tracking after minimum 5 days from the date of the application.
Check PAN Card Status at NSDL Portal
Visit the below link to NSDL portal and follow the guidelines to check PAN card status at the NSDL portal:
NSDL PAN Status
The given link will take you to the NSDL page where you can check PAN Card Status.
Select the application type: 'PAN New/Change Request'.
There are two options for tracking. First by entering your acknowledgement number. Secondly, is just by filling up your complete name and date of birth.
Type the 15 digit acknowledgement number in the next text box.
If you opt for name and date of birth fill up the relative fields.
Give a click on 'Submit' option.
Now read the status message appeared on the screen.
The status messages will clearly explain the current status of your PAN card application.
Tracking UTI PAN Application Status
When you apply for PAN Card through UTI portal, you get a 10 digit coupon number. This is your receipt or acknowledgement number.
UTI PAN Status Enquiry Portal
First of all follow the above link to reach the appropriate page at UTI portal.
Enter the 10 digit coupon number.
Give a click on 'Submit' button to view PAN card application status.
It is super easy tracking PAN Card application status. However, if you still face issues, do leave your comments and queries.
PAN Card Customer Care Numbers
If you have any query and issue related to your PAN Card Application, contact following numbers:
UTI PAN Card Customer Care Numbers:
Toll Free Number: 1800 22006
Mumbai: 022-67931300 / 301 / 302 or 022-67931303 / 304
Kolkata: 033 – 22108959 / 22424774
Chennai 044 – 22500426 / 22500183
New Delhi – 011 23741282/3/4/5/6
NSDL Customer Care Numbers
Contact this number if you have any issue with your application of PAN.
PAN Call Centre number of NSDL: 020 – 2721 8080
Above numbers are compiled from the official portals of NSDL and UTI. The numbers are updated now and subject to change. A more comprehensive guide about various guides related to pan card is available on up news360 website.
Frequently Asked Questions
How can I check my PAN card status online?
Can we download PAN card status?
How can I check my PAN card status by name & Mobile number?
May I know my PAN number without PAN card?
How to contact PAN card customer care number?
Final Words
Tracking PAN Card is a significant requirement for citizens. The online facility to check PAN card status saves great time and efforts for all applicants. Take note, the above procedure of tracking PAN card application status can also be used to check status of duplicate pan card and status of correction in PAN Card data too. Leave your comments to let us know if our information is helpful to you. Your queries and confusions are most welcome. We will be bringing ways to check aadhar card status, EPF claim status, and Passport status very soon. Keeping visiting us for any status update and keep sharing us.