Online KYC Status Check
With the digitalization of all the major services, you can now also check your KYC status online. KYC stands for Know Your Customer. It is a process for the businesses used to identify and verify their customers. It is mandatory for all banks and mutual funds to keep know your Customer details. How to check TAN status procedure.
KYC records are mandatory as per The Prevention of Money Laundering Act, 2002. Generally, the term KYC is a part of bank regulations. But now, most of all the public sector and private sector companies are using this process. Banks are obliged to keep all the details of their customers up-to-the-date. This helps in easy identification of any person or company and avoids any chances of fraud and duplication of accounts. With the help of PAN card or Aadhar card you can update your KYC registration online.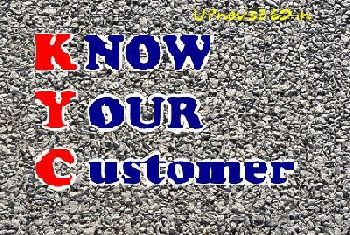 KYC status is equally important for the users. It helps customers at the time of transactions. Almost every bank is having net banking facilities for the customers. However, banks also take all the necessary measures for safety.
KYC is among the safety measures that banks have taken in the modern times. We will show you how to check KYC check online. Likewise, banks, anyone as an individual or company can verify KYC check of any firm or individual at CDSL Ventures website. This confirms the genuineness of the entity.
What is KYC?
KYC or know your customer is a process that is developed to prevent fraud and money laundering. It is also used to curb funding for terrorists and other financial scams like hawala. The process ensures that every bank and financial institution know their customers and their authenticity.
Reserve Bank of India has provided a directive for the banks and financial holdings. This policy includes availability and verification of the customer's details and documents by the banks. This, in turn, helps in transaction monitoring and risk management.
चेक केवाईसी स्टेटस
केवाईसी स्टेटस यूजर्स के लिए भी उतना ही महत्वपूर्ण है। यह लेनदेन के समय ग्राहकों की मदद करता है। लगभग हर बैंक में ग्राहकों के लिए नेट बैंकिंग की सुविधा है। हालांकि बैंक सुरक्षा के लिए सभी जरूरी उपाय भी करते हैं। केवाईसी उन सुरक्षा उपायों में से है जो बैंकों ने आधुनिक समय में किए हैं। हम आपको बताएंगे कि केवाईसी चेक ऑनलाइन कैसे करें। इसी तरह, बैंक, एक व्यक्ति या कंपनी के रूप में कोई भी सीडीएसएल वेंचर्स वेबसाइट पर किसी भी फर्म या व्यक्ति की केवाईसी जांच सत्यापित कर सकता है। इससे संस्था की असलियत की पुष्टि होती है।
Step-by-Step Guide to Check Status of KYC with PAN Number
Learn how to check the status of KYC online at the Central Depository Services India Ltd website. CDSL is a depository providing accumulation of securities electronically. It was established with an aim of providing reliable and secure depository services to all the market participants. Once you submit your KYC form online, you can also check the KYC status following these steps.
Visit the official Central Depository Service limited official website.
Use any of the below mentioned links for easy KYC status inquiry using PAN.
https://www.cvlindia.com/inquiry_kyc01.asp
https://www.cvlkra.com/kycpaninquiry.aspx
Enter the PAN number and know the KYC position.
If the KYC of the entity is verified, the status will be shown on the screen as "MF-Verified by CVLMF".
In case, if the KYC of the entity is not verified, the KYC status result will be shown as "Pending".
In any case, if the KYC application form is lacking information or sufficient documents, KYC application status will be shown as "cancelled or rejected".
You can take a print out of the KYC status result if you need.
This is how you can check KYC status at the official page of CDSL Ventures Limited or CVL. CDSLVL is a subsidiary of Central Depository Services. It is a leading securities depository of India. It ensures confidentiality of data and records.
When Know Your Customer is Required
The process of KYC verifies and identifies a legal entity or an individual through reliable records of documents. KYC status is mostly required in following conditions:
While opening a new account.
When any individual or firm is applying for a credit or a loan.
While applying for a locker
In the case of changes in the beneficiaries and authorized signatories.
When required documents are not sufficient for the existing account.
Also, check your voter ID card status for verification of name and address.
Importance of KYC Status
In the cases of financial fraud and default, banks can easily trail the person or firm with its KYC details. It becomes easier to track defaulters and fraudsters with the complete KYC details. This is also a way to ensure the security of customer's funds for the banks and financial institutions. Hence, the primary aim of the KYC details is verification and documentation of each and every client. However, the concept is larger in the context of preventing financial frauds.
PAN card is the major tool to verify the KYC status. The permanent account number is a powerful proof of one's identity. Be it a firm or an individual, the PAN number makes it easy to track all the financial details.
You can avail a KYC form from your financial consultant, broker or bank with which you are opening an account. You can also download the form the website of the mutual fund company. In the case of any change in the address or phone number, the KYC details must be updated.
Online KYC Registration
KYC is nothing but KYC meaning is Know your customer. So if you want to online KYC registration then it is very easy. Just follow below steps:
First of all visit official website or local office
After that you can upload your scanned documents or give all documents to local office
Then you can do Digital sign on document or physically sign in local office
After verification your KYC registration is done
Frequently Asked Questions
How can I upload KYC to Sodexo?
IS KYC mandatory for Sodexo?
What are the three 3 components of KYC?
How do I check my Sodexo transaction online?
What is KYC verified?
How can I check my KYC status online?
What is KYC number in bank?
Is KYC mandatory?
What is KYC number in SBI?
How do I complete KYC online?
Can you do eKYC online?
How do I check my CVL KYC status?
What is eKYC and Esign?
How can I upload my EPF KYC details?
Final Words
KYC status check is an important procedure for the financial entities like banks and insurance. The major documents collected to complete KYC details are proof of identity and a proof of residence. Proof of date of birth is also required in some cases. As a financial service company, you should always check the KYC status of your customer before any dealings. Stay with UP news 360.in website for more update!