Online TAN Status
It usually takes 20 to 30 days to receive your TAN after submission of an application. Sometimes, it may get delayed due to insufficient documents. Learn to check your TAN status online at the tin-nsdl portal. The status check will help you to know if your TAN application is delayed for any reason.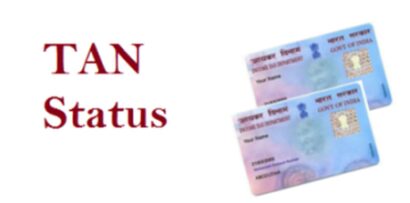 The income tax department is offering online facilities to TAN and PAN holders. Users can apply online for PAN card or TAN number. Learn how to track TAN application status online just in a minute. We have shown here how to track TAN status after applying.
What is TAN?
TAN is a tax deduction and collection account number. It is a 10 digits alpha numeric code and mandatory for individuals or firms deducting TDS. You may also refer to our post on tracking or check PAN card status. Now do not worry about checking the status of TAN.
It is mandatory for all assesses/firms liable to deduct TDS to hold a TAN number. The TAN number is to be quoted in all the communications related to TDS status. TAN status can be checked using the acknowledgement number or date of birth. In the case of a company, the date of incorporation is used in place of the date of birth.
If it is not convenient for you to check TAN application status online, you can still check it. The post shares manual ways to track the status. We have also shown here how to apply online for tax deduction/collection account number.
How to Check TAN Application Status Online
The tin-nsdl portal is offering the facility to check PAN and TAN application status. Follow the instructions and use the link given to track TAN application status.
Hit the link: https://tin.tin.nsdl.com/tan/StatusTrack.html
Select the application type as 'TAN'.
Enter the acknowledgement number. A 15 digits acknowledgement number is issued to all the applicants of TAN and PAN.
Enter your complete name.
If you have applied for TAN as non-individual, mention the name only in the field of Last name or surname.
Select the date of birth or date of partnership deed. Or select the date of incorporate in the case of a company.
Click the 'submit' button to view the TAN status.
This is how you get the precise TAN application status. The status message will clearly indicate if the TAN is already issued and dispatched. In the case, if any documents are required, it will also show on the screen.
How to Track TAN Status by SMS or Phone Call
To track TAN application status offline, you can call TDS/PAN call centre using 022-27218080. Or send an SMS as NSDLTAN<space>acknowledgement number. Send this SMS to 57575. You will get your TAN status on your mobile in few minutes.
How To Apply for TAN
Any individual or firm can apply for TAN number through online or offline mode. A nominal payment of around Rs. 62 is to be made with the application of TAN. The payment can be made online by credit/debit card or net banking. If you are paying by offline mode, you can use DD or cheque. To apply for TAN status online, use the form no. 49B. Download the form from the tin-nsdl portal.
Download Form 49B for TAN application
After filling up all details in Form49B and submitting the form online, you will get an acknowledgement screen. It will contain the 14 digits acknowledgement number. Preserve this number to track the TAN status online. We also recommend printing out this acknowledgment for your records.
NSDL TAN Address
If you have not made the payment online, sign this acknowledgment and send it with cheque or DD. The DD or cheque should be made payable at Mumbai in favour of NSDL – TIN. Send it to the below-given address of NSDL:
NSDL eGovernanceInfrastructure Ltd, 5th Floor, Mantri Sterling,
Plot no. 341, Survey no. 997/8, Model Colony, Near Deep Bungalow Chow,
Pune. Pin code: 411 016.
Do remember to super scribe this envelop as 'APPLICATION FOR TAN – (mention your acknowledgement number)'.
If you have paid online, just send the acknowledgement receipt. See that it should reach NSDL, Pune within 15 days from the date of online application. Your TAN application will be processed after receipt of payment and acknowledgement.
Frequently Asked Questions
How can I track my TAN Status?
What is TAN number?
Is TAN & TIN same?
What is full form of TAN?
How can I find TAN number by name?
Is TAN number unique?
How can I activate my TAN number?
Can TAN number will be surrender or transfer?
Final Words
TAN application is mandatory for all those who are deducting TDS on behalf of IT department. A failure to apply for TAN can also attract a penalty. Hence, apply for TAN before it is late. Users should start tracking the TAN status online at least after a week. Likewise, you can also check status of passport application.
If you have applied for credit cards with SBI or HDFC, check credit card status online. Do spare some time to know about status of EPF claim online, how to check your LIC policy status. It will update you on your policies without visiting the office. Online status checking is an important facility provided by governmental as well private sector services. Keep visiting us and learn to check the status of your significant applications.