GRIPS Portal
What is GRIPS challan? In this article we know about GRIPS portal, how to check Grips challan status & pay online challan. GRIPS is a portal provided by IFMS West Bengal or WBIFMS. Here, one is allowed to pay taxes to the state government.
The GRIPS portal can be easily accessed through the online WBIFMS portal as well as through the relevant mobile app. It can be used for multiple purposes including getting a challan reprint, checking GRN status, searching for challan, etc. Also you know about how to change name in Aadhar card or find Aadhar card status by name & date of birth online.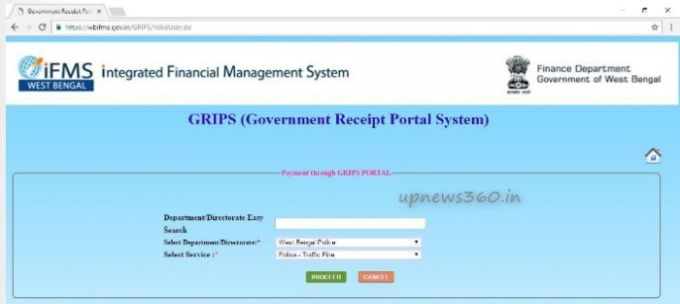 One can also check their respective payment status through the GRIPS website. Here, we will provide all the necessary information regarding the same.
The full form of the GRIPS portal is Government Receipt Portal System which is administered and maintained by the Finance department of West Bengal. The official website is https://wbifms.gov.in/GRIPS. As per the state government mandate, w.e.f. 1st November, 2012 all the e-payments of the government taxes should be essentially done through GRIPS.
GRIPS Portal Login
Many people want to know about procedure for GRIPS login portal. So here we describe step by step as following:
How to Login Into GRIPS Portal?
Go to GRIPS homepage
Click on mIS and Reports link menu
Go to GRIPS login page
Enter the respective user ID and password
Enter the validation number
Submit the form and login
How to Make GRIPS Challan Payment
Visit the official of IFMS website portal and then follow these simple steps for making online payments for respective GRIPS challan:
Open https://wbifms.gov.in/GRIPS/
Next Click on "Make payment" option
Open Payment option through GRIPS Portal form
Select directorate/department
Then Select service
Enter the depositor's name
Enter the respective mobile number and email address
Select user type
Enter the reference number
Select payment method
Finally Proceed to make the GRIPS challan payment
Names of The Bank Branches Who Will Accept E-Challan Generated Through Counter Payment System Of GRIPS
State Bank of India (SBI)
HDFC Bank
Indian Overseas bank
Indian bank
Axis Bank
Union Bank of India
Bank of Baroda (all branches in West Bengal)
IDBI Bank (all branches in West Bengal)
UCO Bank
Check GRIPS Challan Payment Status
You can easily check your online challan payment status through the GRIPS challan status enquiry procedure. These are the following steps which you can follow to check your payment status on the GRIPS portal:
Visit the official website of GRIPS portal
Open GRN status page and easily check the payment status there

GRIPS Payment Receipt
In Case if You Do Not Know the GRN Details
Go to GRIPS portal
Open the challan search link
Enter BRN number
OR Enter the relevant identification number
Enter trade, applicant, company name
OR Enter the respective bank, amount and the challan date
Search your challan
Check the payment status there
How to Get GRIPS Challan?
सबसे पहले आप Official website जा सकते हैं जो पश्चिम बंगाल एकीकृत वित्तीय प्रबंधन प्रणाली (डब्ल्यूबीआईएफएमएस) का आधिकारिक पोर्टल है।
पेज बॉटम में किसी को राजस्व भुगतान, चालान पुनर्मुद्रण के विकल्प दिखाई दे सकते हैं और अधिक हो सकते हैं.
आप GRN Status चुन सकते हैं जो आपको एक नए पेज पर ले जाता है।
GRIP Challan की स्थिति को ट्रैक करने के लिए कोई भी जीआरएन नंबर दर्ज कर सकता है।
Check GRIPS Challan Search
If you want to check or know about GRIPS challan search then just follow below mention steps:
For GRIPS Challan search you have GRN number
Identification number
BRN number
Bank name, Account & Fill date
Applicant/ Company Name
GRIPS GRN Status Check
You can also check your challan status online through the GRN status enquiry option. This is the easiest process to do so:
Go to WBIFMS GRIPS portal official website
Next Click on GRN Status option
Open Reprint Challan with GRN form
Enter the relevant government reference number
Finally Click on the "Check Status" option
Your relevant GRN status will be displayed there.
Grips Challan Reprint
In this section step by step procedure for GRIPS challan reprints as mention below:
How to Get GRIPS Challan Reprint Online?
Go to https://wbifms.gov.in/GRIPS/
Next Click on challan reprint option
Go to "Reprint challan" with GRN
Enter the relevant 18-digit Government reference number or GRN
Click on Print button
Finally Your PDF challan will be printed online
GRIPS Challan Validity
As we know most people want to know about validity of GRIPS challan. So the validity of GRIPS challan is 7 days to make payment of nearest bank.
Frequently Asked Questions
Ans: For online payment of traffic through Grips visit official website http://wbtrafficpolice.com/grips-payment
Ans: GRN No means Goods Receipt Note is for delivery items from your suppliers.
How do I get a refund from Grips?
Ans: For refund process of Grips visit official website.
What is the meaning of GRIPS portal?
Ans: The meaning of Grips portal is Government Receipt Portal System.
How to login in Grips portal?
Ans: To login in Grips portal visit official website http://www.wbtrafficpolice.com/online-fine-payments-via-grips.php
Final Words
This is in short a comprehensive description regarding the details of utilising the GRIPS challan portal, GRIPS challan status download or payment and GRN number. With just a few clicks on the computer, laptop or smartphone, you can easily acquire all the relevant details within minutes.