Kisan Suryoday Yojana Gujarat 2023
Prime Minister Narendra Modi today launched the Kisan Suryoday Yojana scheme in Gujarat through video link. Under the scheme, the farmers of Gujarat will be supplied electricity from 5 am to 9 pm. In addition, the Prime Minister also inaugurated 2320 metre Ropway at Girnar. On this ropway, 1000 passengers can travel in an hour. Heart Hospital was also inaugurated at UN Mehta Institute in the same event.
Prime Minister Narendra Modi on Saturday inaugurated 3 major projects in his home state of Gujarat through video conferencing. He inaugurated the U N Mehta Paediatric Heart Hospital in Ahmedabad, Kisan Suryoday Yojana and Asia's longest temple Ropway on Girnar Mountain.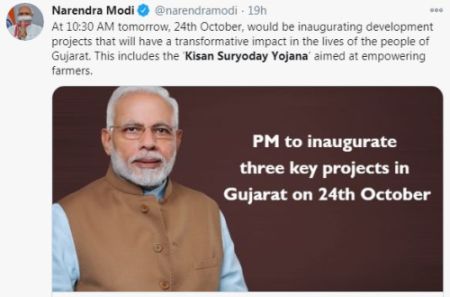 In Girnar, the ropeway will enable devotees and tourists to reach the peak of Mount Girnar by fixing a distance of 2.3 kilometres in just 7.5 minutes. In one trip, 192 passengers will be able to go.
About किसान सुर्योदय योजना
पटेल ने कहा, करीब तीन साल में पूरा होने वाली इस परियोजना के तहत हम दिन में उन सभी को बिजली उपलब्ध कराएंगे । गुजरात  किसान सुर्योदय योजना जिसका उद्देश्य किसानों को दिन में कृषि उद्देश्य के लिए बिजली प्रदान करना है। पहले चरण में तीन जिले जो दाहोद, जूनागढ़ और गिर सोमनाथ हैं, उन्हें परियोजना के तहत शामिल किया गया है। सरकार ने दिनकर योजना से नाम बदलकर किसान सुयोग योजना कर दिया है।
इस योजना का नाम "किसान सुर्योदय योजना" है। इस पोस्ट में हम इस योजना के बारे में संक्षिप्त विवरण देंगे। इस योजना को किसान सर्वोदय योजना के नाम से भी जाना जाता है। राज्य के ऊर्जा मंत्री सौरभ पटेल ने कहा कि दूसरी परियोजना किसान सुर्योदय योजनाका उद्देश्य किसानों को कृषि के लिए दिन में बिजली उपलब्ध कराना है। उन्होंने कहा, वर्तमान में विभाग ने कृषि कनेक्शन वाले किसानों के १५३ समूह बनाए हैं, जिनमें आधे समूहों को रात के दौरान बिजली मिल रही है और दूसरे आधे दिन में ।
PM Modi Speech on Kisan Suryoday Yojana 2023
Speaking on the occasion, the prime minister said that these three schemes are symbols of gujarat's power, devotion and health. Pm Modi further said that this is the new era when farmers get three phase of electricity in the morning from 5 am to 9 pm instead of night. I congratulate the Government of Gujarat for this work is being done by creating a brand new transmission capacity, without affecting the rest of the arrangements. Under the scheme, about 3.5 thousand circuit kilometres of new transmission lines will be laid in the next 2-3 years.
Pm said, "I am told that the scheme will be implemented in more than a thousand villages for the coming few days. More of these villages are from tribal dominated areas. Gujarat has also done a great job in irrigation and drinking water with electricity. We all know what was the water situation in Gujarat. With the efforts of the last two decades, Gujarat has reached the villages where no one could have imagined before.
He said, "Gujarat is the first state in the country to have taken steps in the field of solar energy a decade ago. The PM said India has become the sixth largest country in the world in terms of solar energy. The Gujarat government led by CM Vijay Rupani had recently announced the Kisan Sunrise Scheme to ensure power supply to farms during the day for irrigation in Gujarat. Under this scheme, farmers will be able to get electricity from 5 am to 9 pm. The state government has allocated a budget of Rs 3500 crore to set up transmission infrastructure under the scheme by 2023.
Gujarat Kisan Suryoday Yojana 2023
kisan suryodaya yojana is to provide electricity to farmers of Gujarat (Gujrat) in the day. Under the scheme, farmers will now be able to supply power from 5 am to 9 pm. The scheme will benefit 17.25 lakh farmers of Gujarat.
The state government has allocated a budget of Rs 3500 crore under the scheme till 2023. The scheme covers Dahod, Patan, Mahisagar, Panchmahal, Chhota Udepur, Kheda, Tapi, Valsad, Anand and Gir-Somnath in 2020-21. The remaining districts will be covered in a phased manner by 2023-23.
Application Form for Kisan Suryoday Yojana
As there is no news regarding Kisan Suryoday Yojana application, So when the official news release we update here at our portal UPnews360.in. Till now you can know more information.

Video Credit: News tak
Final Words
So in the above article we shared all the news regarding Kisan Suryoday Yojana or किसान सुर्योदय योजना Gujarat 2023 online. Still anhthing is missing just write down comment in the below box. We will try to update you.