PSPCL Bill Payment History 2023
How to know PSPCL bill history online? PSPCL has their own portal from where the bill payment history can be viewed by its customers online. They can check their receipt, bill summary and various other details of current and previous years. Know how to pay direct energy bill online.
PSPCL Bill payment history check is an easy process and can be done by following the below-mentioned steps.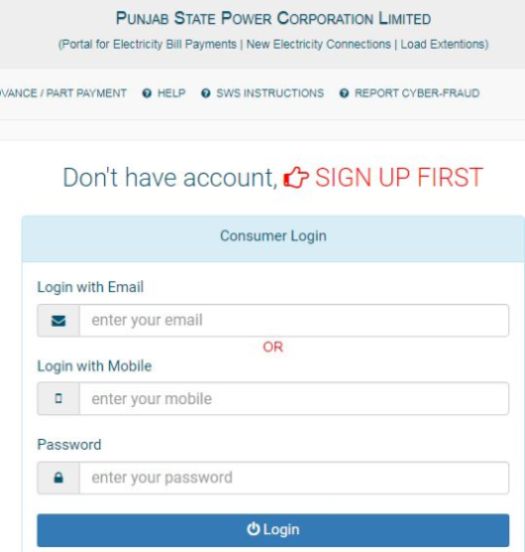 The existing customers have to log on to the official website billpayment.PSPCL.in.
After the consumer enters the official site of PSPCL, they will find an option of Bill History on the upper right hand of the Dashboard. They have to click on the option.
After clicking the option, a new page opens where a form appears for the consumer to check bill history. In this form, the consumer has to enter his Consumer Account Number. The consumer can get their consumer account number easily from the previous month bills.
After entering the consumer account number, the consumer has to enter the year for which they want to check the billing history in the next field of the form. Generally, the billing history of the last five years is stored in the portal. A consumer can check a bill history of one year at once.
After filling in all the required information, the consumer has to click on the option SHOW BILL HISTORY. The required bill history will appear on the screen.
PSPCL Bill Payment Online
A consumer of PSPCL can pay their bills online from the portal as easily as they can view their bill history. To do so, they can follow the below-mentioned steps:
Logon to billpayment.PSPCL.in.
On the official page, the consumer has to click on the BILL PAY option.
Then they have to enter the electricity bill account number and click on submit button.
The bill will be generated online and the consumer has to go to the bill payment page.
On the bill payment page, the consumer has to enter the details required and select the mode of payment.
Finally, after completing all the steps the consumer can pay their bills. Once the transaction is successful, the consumer receives a receipt which they can print or save for future references.
Bill payment can be done through different modes from the portal. The available modes of bill payment on the PSPCL site are –
Billdesk
HDFC Bank
PayTM
UPI
PSPCL Complaints
Although PSPCL is dedicated to providing complaint-free service for every household, yet there are still certain drawbacks and hindrances during the supply. So, in case, if any consumer faces any issue with bill payment or has any personal grievance with PSPCL, then it is very easy to lodge a complaint on their platform. PSPCL is noted for providing compliant lodge facilities through a wide range of channels.
PSPCL is known to accept all sorts of requests, feedbacks and complaints through their registered platforms from their consumers to ensure hassle-free service. There are multiple online and offline platforms of PSPCL.
PSPCL Bill Download
Many people want to know about how to PSPCL bill download online. So here we explain step by step guide about download PSPCL bill:
First of all visit PSPCL official website
Enter your consumer number and Month OR Year
Finally click on "Submit" button
PSPCL Bill Calculator
Here we explain how to calculate PSPCL bill online. There are many formulas to calculate PSPCL bill. Among them 1 of them method shared here.
Suppose consumer's connected load is 6KW and enery unit consumed 350 units. Then calculation is here:
For the first 100 units charge is 449 Rs
After that next 200 units 1268 Rs and
last 50 units charge is 365 Rs,
Additionally duty charges is 35 Rs (350 x 0.1)
Fixed charge 270 Rs (6kW x 35)
Electricity tax 13% 311 Rs.
Total bill is 2698 Rs for 350 Units.
PSPCL Online Complaint Modes
Online portal grms.PSPCL.in
Missed call: 1800 180 1512
Voice Call: 1800 180 1912
SMS: 1800 180 1912
WhatsApp: 96461 06835
Email:

[email protected]
Procedure for PSPCL Complaint Online
In order to register any complaint or grievance towards PSPCL, the consumer needs to follow certain simple steps. The procedure is very easy and user-friendly. The steps are as follows:
Firstly, the consumer has to open the PSPCL Grievance Redressal Management portal at grms.PSPCL.in
Then they have to click on Supply related complaint which will open a new page
On the new page, the consumer has to enter the registered mobile number, select the relevant zone, circle, division and subdivision.
Next they have to enter their name (complainant), type in the location/address.
Then they have to choose the nature of the complaint
Finally the consumer has to enter the captcha security code and click on the save option. The complaint will be officially logged into the system and will be followed up by PSPCL.
Follow up on PSPCL Complaint
Once the consumer has submitted a complaint through any of the platforms maintained by PSPCL, they will receive a confirmation message. This message will state that their particular request or complaint has been duly registered with the authorities and a unique complaint number will be duly assigned against every complaint the consumer makes.
The consumer can utilize this unique complaint number to track the complaint status from the official website of the portal for monitoring the follow-up. Now you can download birth certificate online as well.
About PSPCL
PSPCL or Punjab State Power Corporation Limited is considered to be a self-reliant and responsive organisation. One of the principal focuses of PSPCL is to pursue a continuously consumer-centric approach, setting new targets and new benchmarks.  PSPCL maintains certain divisions and classifications according to its area of management for better efficiency and prompt action.
The consumers of Amritsar are divided broadly into Amritsar City Circle and Amritsar Suburban Circle. The Amritsar City Circle has been further subdivided into two groups namely Amritsar Ind. Tech consisting of Sultan Wind, Chatiwind, Mall Mandi, Hakima Gate and Civil Line Amritsar consisting of Civil Lines Islamabad, City Centre and Tunda Talab.
Amritsar Suburban Circle is further subdivided into East Division consisting of East Tech, West Tech Amritsar and South Tech; West Division consisting of Chogawan, Lopoke, Khasa, Attari; Suburban Division consisting of  Harsha Chinna, Majitha-1, Majitha-2, Kathunanagla, Udoke; Anjal Division consisting of Anjala, City &SU Anjala, Fatehgarh Churian, Ramdass, Jastarwal; Jandiala Division consisting of Jandiala, Bandala, Kot Mit Singh, Fatehpur Rajputana, Tangra.
Frequently Asked Questions
How can I print my PSPCL bill?
Ans:  To print PSPCL bill visit https://billpayment.pspcl.in/ and Enter your consumer No.
How can I check my PSPCL bill online?
Ans: To check PSPCL bill online visit PSPCL website and enter your consumer number.
How do I get a receipt of Google pay my bill?
Ans: When you pay your PSPCL bill via Google pay then in most cases you got email that your PSPCL bill payment is successfully proceed.
Related Terms
PSPCL hr bill history
Bill payment history PSPCL
PSPCL history
Punjab electricity bill history
PSPCL bill history receipt
Bill history of PSPCL
Punjab electricity bill history
Final Words
PSPCL is a vibrant, responsive and self-reliant institution. Its mission is to pursue a value-based customer-centric approach. For this, they have introduced their online platform to cater to the needs of their consumers and vendors. This article helps the consumer to learn the simple way of solving their problems related to PSPCL bill history, bill payments and how to lodge complaints.