CIF Number SBI Bank
Today we in this article we know about SBI CIF number? SBI Bank is a major financial institution in India. The bank offers a variety of services, such as checking your account balance, activating your card, updating your mobile phone number, and receiving a mini-statement.
It's also possible to check the account's CIF number in a variety of methods at the State Bank of India. Also you check SBI reference number online as well.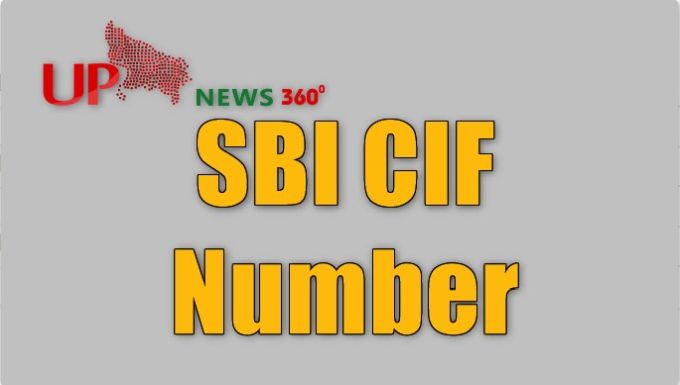 Anyone who doesn't know that every bank customer has a CIF number that saves all of their account information digitally, including their Know Your Customer (KYC) details, should know that. In the banking system, it's a file.
एसबीआई सीआईएफ नंबर
ग्राहक सूचना फ़ाइल, या सीआईएफ, बैंकिंग उद्योग में सबसे महत्वपूर्ण शब्दों में से एक है। यह मूल रूप से किसी व्यक्ति की बैंक जानकारी को संदर्भित करता है जिसका उपयोग बैंक अपने खातों को चलाने के लिए करते हैं। सीआईएफ को निरूपित करने के लिए 11 अंकों की संख्या का उपयोग किया जाता है। इस फाइल में ग्राहक के लोन, अकाउंट, केवाईसी की जानकारी, जैसे उसके निवास, पहचान की जानकारी और फोटो आईडी सबूत आदि के बारे में डेटा होता है।
यदि आपको अपना एसबीआई सीआईएफ नंबर जानने की आवश्यकता है, लेकिन पासबुक तक पहुंच नहीं है, तो आप निम्नलिखित विधियों पर विचार कर सकते हैं:
What is the SBI CIF Number?
"CIF" refers to the unique number assigned to each customer's data file. When someone creates an account with SBI or CBI Bank, they receive an 11-digit CIF number. A Customer Information File (CIF) Number is generated by the bank and comprises all of the customer's digital information, including his personal information, address proof, account number, transaction history, and loan details. CIF Numbers include 11 digits and are unique to each customer.
Offline Method
There are a number of places where this information can be found in the checkbook.
Second, you can ask for the CIF in person at your bank's location by providing your account number.
A third option is to check your SBI account passbook, which may or may not have this number.
You can also call the SBI toll-free lines 1800112211, 18004253800, or 080-26599990 to get help with your account. In order to verify your identity, you'll need to provide some basic information, such as your account number.
You'll be put in touch with a senior bank official. Request the CIF number from the executive.
How to Get A CIF Number in SBI Without Passbook?
The Passbook that the Bank gives will often have the CIF Number printed on the first and opening pages. It's possible that the CIF number isn't included in your Passbook or you don't have one, and if that's the case, the following ways can help you find it:
Get an SBI CIF number using net-banking
You can use this strategy if you have access to your online banking. To obtain your CIF number via net banking, take these simple steps:
You must first go to sbionline.com.
Use your User Name and Password to access your net banking account.
On the "My Account page and profile" Tab, click on "account summary" and then open it.
Afterward, select the choice for nomination and PAN information
Go to the View Nomination and PAN Details menu.
You'll see the CIF number on the next page, as well.
Get the SBI CIF number by visiting your bank branch
Your CIF number can be obtained at any SBI branch by requesting it. To begin, you will be subjected to a series of verification questions. Your Customer Information File (CIF) number will be sent to you after some verification has taken place. When you visit the Bank, be sure to have your Passbook and photo ID with you.
Get SBI CIF Number by SMS
In the State Bank of India, you cannot get SBI CIF number directly via SMS. For that you have to send SMS for statement and in that statement CIF number mentioned, which will you got.
SBI CIF customer Support
Using this strategy, you can avoid standing in line at an SBI branch if you don't have the time or don't want to waste your time. SBI Customer Support, or Customer Care, has a toll-free phone number. And make sure you get your CIF number from them. To make sure you are who you say you are, they will ask you a few questions.
Your CIF number will be provided to you after verification has been completed. The following toll-free numbers are available to you:
SBI CIF Toll-Free: 1800 425 3800
It was 1800 11 2211.
080-26599990
How to Find the CIF Number of your SBI Account via App?
As a result of the Yono SBI app's UI modification during the past year, the CIF number process has altered slightly. Using the Yono app, you can acquire the SBI account's CIF number.
Take a look at Yono SBI
Input your six-digit MPIN here.
"Accounts" can be accessed by clicking on it.
Go to the Accounts menu.
The passbook statement will be downloaded when you tap on the Passbook icon.)
Go to "Downloads" in your phone's File Manager and then tap "Open"
Choose "Account Statement PDF" as the output format.
There is a PDF that has your CIF and other account information, as well.
Conclusion
Hope you know all the details regarding SBI CIF number, how to get SBI CIF number by SMS, passbook or cheque book. An account holder's personal financial data is stored in a digital file called a Customer Information File (CIF). For each bank customer, a different file number is assigned to each file. In the State Bank of India, a customer's CIF is an 11-digit number that provides the bank with extensive information on that customer. Customers' information, such as account types, balances, transactions, and loans, can all be retrieved using this ID.