Spark Kerala
What is Spark login? SPARK stands for Service and Payroll administrative repository for Kerala. It is integrated personnel, payroll and accounts information system which keeps a record of all the government employees of Kerala. Also you can know more about IFHRMS pay slip download for all employees online.
The Spark Kerala has formed this repository to handle the HR-related work as well as data related to the salary of government employees digitally. This initiative has helped to regulate the payroll and finance-related activities of more than five lakh employees under the one application.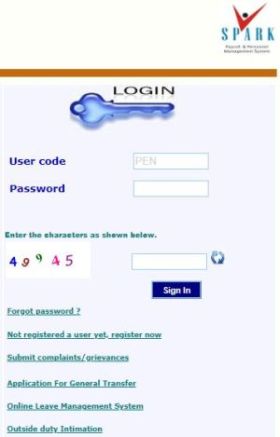 Important Features of Spark
So in this section we shared Spark portal features which are very important as below:
It is a government to employee web-based personnel administration and accounts software for government establishments
Every detail regarding the service book of each employee is digitised
It has provision to generate identity cards
So it has a centralized database which facilitates quick decision making and helps in applying all the rules uniformly
It maintains the advances, recoveries, loans etc. of the employees
Also it helps in income tax formulation and statutory forms
It is an interface for the employees which allows them to view all the necessary information
You can submit complaints/Grievance online as well
Application for General transfer available online
Online leave management system & outside duty information system
Spark Login & Registration Online
All the employees can register on the official website using the link http://www.spark.gov.in/webspark which will generate them individual login credentials to operate on the SPARK'S website.
After receiving the credentials, the employee can log in to access their e-service book service and pay and also the allowance details. An employee is required to fill the details like name, date of birth, Aadhar number, mobile number etc. to complete the registration process.
In case of any fault, the employee should contact DDO/correct the details.
How to Reset Password in Spark Login Portal
If you forgot password in Spark login portal then don't worry you can reset password. But for that you have required information as mention below:
First of visit official website
Next in Right sidebar you can show "Forgot password" button
Click on that button
After that enter required details like PEN, Date of Birth, Email Address
Finally click on "Submit" button
Benefits of Spark
A unique permanent employee number is generated for all
The reports are generated in the PDF form which becomes easy to access
It ensures easy data and speedy bill preparation
The app provides transparency in administrative work
This helps the employees to clear the confusion regarding their claims by giving them automatic alerts
All the work is done online which saves time and reduces the interaction between the head office and the remote office
How to Submit Complain/Grievance Online in Spark Portal
So many people having different different types of query or complain. So now you can submit online complain in Spark login portal. Step by step guide mention below:
First of visit official website https://www.spark.gov.in/webspark/(S(qenednwam3jq5qbocijhowvl))/sparklogin.aspx
Next click on "Submit Complaints/Grievance "
Then enter required details like PEN, DOB and mobile number
Finally click on "Submit" button
Future Plans of Spark Portal
To create a pension database maintenance
Ensure electronic submission of bills to treasuries
To resolve the queries online which are related to expenses
Facilitate online leave application
To ensure automated bug reporting and tracking system
Spark Helpdesk Contact Details
So as we know many people having some kind of query so you can contact via Spark helpdesk contact details as mention below:
Spark Thiruvanthapuram PMU: 0471 2579700
Kollam: 9496383743/0471 2793553
Kannur Regional Spark Help Centre: 0497 2707722
Kattakkada: 9496383742/ 0471 2290262
Pathanamthitta: 9496383745/ 0468 2222402
Thrissur: 9496383753/ 0487 2360348
Kozhikode: 9496383756/ 0495 2370720
Mattannur: 9496383762/ 0490 2471007
In the current scenario, SPARK has been proven very useful to keep a track on all the government employees under a single roof. Spark is easy to access just by a fingertip. Kerala government is researching and making a huge investment to promote the information system and contribute towards digital India.
Final Words
So in the above article we try to shared each and everything information regarding Spark login kerala, benefits, how to login in Spark portal, registration, features, Spark individual login with contact helpddesk details and so on.